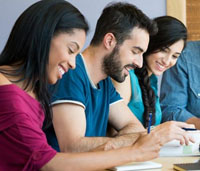 Our Online courses have been very successful. Learn German now sitting at home. What all you need: Internet connection and zoom app on your mobile or laptop or computer. Get the feeling of actual class room teaching. Number of students in one class=12-15. Please feel free to contact for detailed guidance, consultation and help.
E-mail; soglchd@rediffmail.com
Whats App Number: +91 8146564629
On the Initiative of Goethe-Institut / Max Mueller Bhavan New Delhi it became possible to push forward the establishment of the German Cultural Society in Chandigarh and to realize the concept of establishing of a German Cultural Society Chandigarh (Goethe-Zentrum Chandigarh) which was originally mooted in September 2004. As a result of this, the Indo-German Language and Cultural Society, Chandigarh was established in cooperation with the Goethe-Institut / Max Mueller Bhavan New Delhi.

The Goethe-Institut is the cultural institute of the Federal Republic of Germany with a global reach. We promote knowledge of the German language abroad and foster international cultural cooperation. We convey a comprehensive picture of Germany by providing information on Germany's cultural, social and political life.
Would you like to learn German? We can offer you the perfect opportunity.
You can find out about:
Please direct your enquiries to Chandigarh:
soglchd@rediffmail.com Tel.: +91 172 5075781, 5089277
Fax: +91 172 5086838

SCO 362-363, Sector 34-A
(Behind Piccadilly Mall)
Chandigarh 160022
German Language Institute in Chandigarh, German Coaching Institute in Chandigarh, German Language Institute, Learn German in Chandigarh, Learn German in India, study German Language in India, German Language Course in Chandigarh, German Language Institute in Chandigarh, Best German Language Institute in Chandigarh, Best German Institute in Chandigarh, Best German Coaching Institute in Chandigarh, how to learn German language, German language learning, learning German language